Our Supporters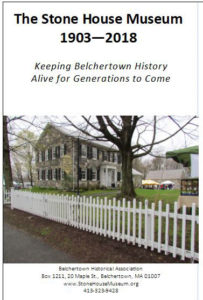 The Board of Directors is excited to let you know about the creation of a Program booklet for our 2018 season, featuring pictures and articles relating to the Stone House museum, recent acquisitions, and descriptions of our regular annual events. The Program booklet will be widely distributed throughout our town and handed out at each of our events during the year. We expect it to have a good shelf life.
To add to its value and to raise the necessary funds to continue our mission, we are inviting local businesses, associations and organizations to purchase 'ad space' in the program booklet. Below is a letter being mailed to them for that purpose.  Event sponsors will get additional recognition in press releases as well as event inserts, and all advertisers will be featured on this website www.StoneHouseMuseum.org with a link to their business, if applicable. 
We have purposely kept the annual cost for advertising affordable for small businesses ($100 for ¼ page ad) and associations, families, and individuals ($25 to be listed) to encourage interest and wide participation.   
Please help us by contacting any individual you know whose business could benefit from the positive marketing of its products or services.  We are happy to mail or email the invitation to anyone we missed – just send us their contact information.
Thank you in advance for your support. We welcome your comments and questions.