Opening Day: Crafts, Plants, and "Old Bags"
When:
May 13, 2017 @ 9:00 am – 2:00 pm
2017-05-13T09:00:00-04:00
2017-05-13T14:00:00-04:00
Where:
Stonehouse Museum
20 Maple Street
Belchertown, MA 01007
USA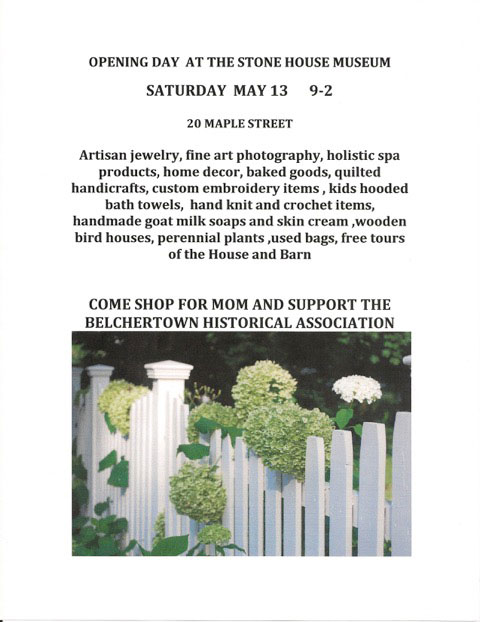 Saturday, May 13, 2017 is our annual Opening Day event. This year, more than ever, we need everyone's support. We have a lot of fundraising activities going on this year and it makes the workload lighter and the activities more enjoyable when lots of people are involved.
CRAFTS – Carol Mierzewski at 413-323-4344
emierzewsk@aol.com.
Please help us pass the word to all of those talented crafts people in our area! Attendees at our Opening Day event look forward to seeing and buying locally hand-made items. Details about renting space and displaying wares are available from
PLANTS—Sally Shattuck 323-4239
sallyshattuck@charter.net
May 7th is very early for our beloved perennials, so I will need everyone to "dig deep" and find what you can that is popping up. If you can dig them a few weeks in advance and keep them in a warm place, they will have time to recover and look healthy for the sale. As always, if you need me to come and dig them for you, just get in touch with me. Variety is always welcome, but we still love our old faithfuls like forsythia, bee balm and daisies. We are looking for vegetable plants, ferns, trees, shrubs, houseplants and bulbs as well as perennials.
OLD BAGS Clean out your closets! If you haven't used a bag in the last year – recycle it! It needs to come out of hiding and be cleaned up for our Old Bag Sale. This is a very popular sale and your donations of bags of all varieties are welcomed. There will be drop off bins at the Making Waves Hair Salon, Looks to Kill, Easthampton Savings Bank and at the Town Hall – 2nd Floor. Have any questions please call Erica Morrison-Brazitis at 413-537-3218 or Sharon Moran at 413-896-7531.
Volunteer Opportunities
OPENING DAY  (May 13)
Someone to interface with the school department and Beers and Story about parking.
Staffing/volunteers for the day if needed.  Plants and bags need volunteers as well as the house.
Volunteer coordinator for the event.
Tent set up, including contacting the Sherriff's Depart. to use their tent  and coordinating their set up.
General set up.  ie. Tables, chairs, etc.
Old Bag sale.  Collecting, sorting, pricing and setting up the morning of.
Plant sale.  Organizing, pricing and arranging the plants the morning of.
Crafters.  Solicit for crafters and keep track of who is coming, meet and direct them the morning of.
Break down after the event.
– See more at: http://stonehousemuseum.org/volunteer/#sthash.Om1SQKCO.dpuf